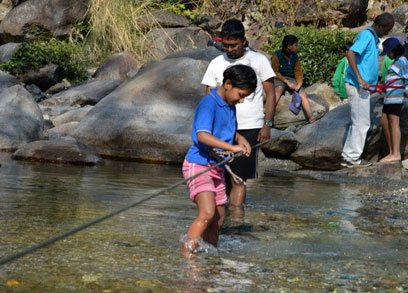 34th Adventure & Nature Study Camping Course
Camping in the wilderness is an excellent medium for interaction between man and nature. Adventure in natural surroundings helps a child to grow into a complete man. Every winter, since 1987, South Calcutta Trekkers Association has been organizing camping courses - camping in woods - with school children in the age group of 12 to 14 years, in the hilly and forest areas in the states of West Bengal, Jharkhand and Orissa in India. The idea is to induce the spirit of adventure in young minds.
All these are attempts to bring the children back to nature from their dry, urban existence. The camping experience helps the children to identify plants, trees, herbs, birds, insects, butterflies and at the same time train them in adventure activities like trekking, river crossing, bouldering etc. Instructions on basic camp crafts like knots, lashing, making shelter and fire, cooking and reading the map are given and the children practise them all while enjoying their night-outs in the jungle.
The camp-life takes a different dimension after dusk. Observing the starlit sky, hearing the continuous call of the cricket, rustling of dry leaves, call of the unknown, wild animals, the young campers can almost feel the sound of the silence all around them. They take the lesson to love the carefree life amidst nature, away from the bondage of the fast life in the city.
Important Note!
Limited Seat!! Seat will be booked on first-come first-serve basis.
Booking will be confirmed only after an advance payment (part or full). Those who have registered online are requested to pay an advance amount (min Rs. 1000) by CASH/CHEQUE/ONLINE.
Refund Policy:
Before 30 days - Full amount will be refunded
30 days to 15 days - Rs. 250 will be deducted
Less than 15 days - Rs. 500 will be deducted