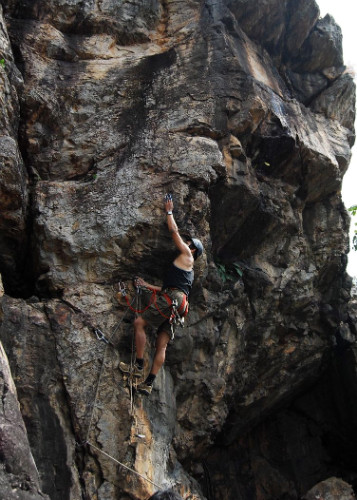 36th Basic Rock Climbing Course
To instill the spirit of adventure and to train those who are willing, South Calcutta Trekkers Association has been organizing the Basic Rock Climbing Course every year during the winter months since 1985.
These courses are usually held in the Susunia Hills of Bankura district or in the Mathaburu Hills of Purulia district in West Bengal. The age group of the participants is between 18-35 years. Generally the trainees along with the instructors reach the rock-climbing spots after an eight hour night journey by train from Kolkata. The 25-30 trainees are divided into 4-5 groups with one instructor and one co-instructor for each group.
The 4 day course introduces the trainees to the arena of rock climbing which includes basic principles of rock-climbing, holds, use of ropes and knots, crack climbing, belaying, anchoring, methods of rappelling along with different gradation of free-hand climbing. Many take to mountaineering in later times after going through the Basic Rock Climbing course from our organization.
Applicants are requested to go through the Joining Instruction thoroughly. For any doubt / query, call us or send mail to scta83@gmail.com.
Form Submission Options
Online: Click on the "Submit Form Online" Link below and fill up your details online and submit the form. You need to take a print out of the pdf version of application form and submit at the time of joining.
Offline: Click on the "Download Application Form" and download the PDF. Print the PDF, fill up your details and submit to the club.
Important Note!
Limited Seat!! Seat will be booked on first-come first-serve basis.
Booking will be confirmed only after an advance payment (part or full). Those who have registered online are requested to pay an advance amount (min Rs. 1000) by CASH/CHEQUE/ONLINE.
Refund Policy:
Before 30 days - Full amount will be refunded
30 days to 15 days - Rs. 500 will be deducted
Less than 15 days - Rs. 1000 will be deducted